22 October (Sun) 11:00 at Theatre Cocoon

Special Event

"Makino's family and legendary stars in Japanese films "

Guest: Masahiko Tsugawa( Actor, Director)

Born in 1940 in Kyoto between Kunitaro Sawamura, the famous actor of Nikkatsu studio and Tomoko Makino, the actress. His grandfather was a director, Shozo Makino called "The father of Japanese films".
He has been playing as the various characters since his main cast in JUVENILE JUNGLE directed by Ko Nakahira in 1956. Recently, he has been interested in the filmmaking and directed Nezu No Ban in 2005.

*Please be advised that the schedule may change due to unavoidable circumstances.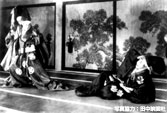 Opening Screening
The Forty-Seven Loyal Samurai (Jitsuroku Chushingura)
<1928/ 80min./ Makino Production>
A film re-edited again after the lack of negatives due to fire comes back with the live performance of narration and music !
<Narrator: Yoichi Inoue>
Director: Shozo Makino
Cast: Yoho Ii /Tsuzuya Moroguchi /Chiezo Kataoka
< Story >
In 1701 (the middle of Edo period), the feudal lord of Ako, Takuminokami Asano (Moroguchi), cannot bear the relentless harassment of his superior, Kozukenosuke Kira (Kobunji Ichikawa). Exasperated, he attacks Kira with his sword in the corridor of Edo castle. As a result, Takuminokami is forced to commit seppuku, and the Asano family is broken up. This film, based on the popular Kabuki play, tells the story of the revenge taken by the ex-Ako samurai. The all-star cast of this 1928 Japanese film treasure was drawn from the leading actors in the traditional and nouveau theater of the time. Our screening will be accompanied with live narration and music, as it was at the time of its theatrical release.
What's Japanese silent film? 
The first motion pictures were shown in Kobe in 1896 and just a year later, movies were being exhibited in nearby Osaka - for the first time in Japan. These were silent, of course but, just as in overseas countries, music was used as accompaniment.
In Japan, in addition to the music, the film was also accompanied by a benshi, a narrator who told the audience what it was seeing. Called katsuben (silent film with narration) it began as information but went on to full dramatization. Characters' voices were imitated and the audience was told not only what they were seeing but also how to feel about it.
Katsuben was bound to vanish once all-talkies were introduced but the art has never been entirely forgotten.There are a few practicing benshi and quite a few fans of this entertainment which so securely connects audiences and movies.
This showing features Osaka-Kyoto-style katsuben -- Jun Hamamura as benshi and the only music group inheriting the traditional style using both Japanese and Western instruments to accompany silent films.
They offer an opportunity to witness a unique form of film presentation which preserves the long tradition from more than a century ago.
◆Yoho Ii (1871-1932)
Born in Tokyo, his father was a photographer. Interested in theatrical drama, he was first an actor in the nouveau theater and later the leader of a theatrical company. "The Forty-Seven Loyal Samurai" was his film debut. He also wrote several books including "Nihon Engeki no Setsu."